Welcome to Index Solutions
Index Solutions is started in the mid of 2011 with an aim to establish itself among leading Global providers of IT and IT enabled services. In a very short span of time Index Solutions has build its name among its prominent clients for providing quality Web services & Business Applications. Our Motto "We Index All" reflects our dedication towards serving our clients. We offer entire web based services ranging from designing, to development, maintenance, customer support and web marketing. We also provide solutions for the Business Application for midrange and small level organizations. We are committed to providing strategic, dynamic, unique, reliable and secure solutions that help our clients. We take pride in what we do and view our clients success as our success.
Our Expertise
Index Solutions has the most comprehensive portfolio in the area of Web Design, Business Application Development, Digital Marketing, Graphics Design and Training.
Designing
The designing at Index Solutions is totally customize which can be suggested by the clients. We not only design web site, but also design flash presentation, product catalogues, etc. We offer one stop solution for all your web and marketing related requirements.
Development
We develop from a simple database website development to complex web based solutions; small business application to enterprise business application.
Digital Marketing / Social Media Marketing
SEO, SEM is now days not only the areas of digital marketing. The more and more peoples are digitised and they like to spent time on social platforms. We at Index Solutions targeting those audiences and which most likely to be your prospects. Face-book marketing, twitter, linked-in, you-tube and many more where the presence of your firm could be seen.
Training
15+ Years experienced in education segment for IT & Management. All trainers are minimum 5+ years experienced.
Our Site SEO Grading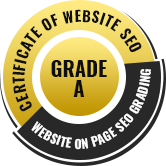 Highlights
Business establishment year 2011
Served to multiple segment of industries i.e. NGO, Education, Hospitality, Consultancy, HR & Recriuitment, Engineering, Event Managment, Portfolio, etc.
Total Experienced above 15+
Total Team of 20+ Professionals
180+ Websites Designed
40+ Applications developed
8000+ Graphics Designed